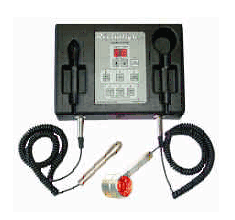 Our Laser & Revitalight Acne treatments are the best combination for a balanced approach to treat the acne skin condition and nearly eliminate the likelihood of it coming back. In addition to these acne treatments we also offer acne skincare and acne facial treatments like the mediback facial by Dermalogica.
Acne is still considered one of the most common skin conditions and can affect up to 85% of all teenagers and over 30% of the adult population. Acne is also directly related to enlarged pores, blackheads and whiteheads. In some severe cases inflammatory acne can cause ongoing discomfort and permanent scarring.
Common treatment options for acne include topical or oral medication, facial chemical peels and some laser therapies. Of these, SpectraPeel acne treatment and revitalight LED treatment are two of the most gentle and effective treatments available. Specifically these procedures treat the current ongoing acne condition and prevent future reoccurrence of acne as well. After a few short treatments patients typically experience less acne, reduced oil production in the skin and significantly improved skin tone. Additionally, these treatments also results in reduced pore sizes and redness and improved skin tone and color.
How can SpectraPeel control acne?
The technology in the SpectraPeel is like no other!… Specialty carbon based spectra lotion is applied onto the skin and allowed to penetrate into the pores. Then the laser is applied in two passes including long pulse mode that reached deep into the skin to stimulate skin cell regeneration and reduce redness and inflammation, then a secondary pass is applied using q-switch (short high-energy superficial pulse) mode to completely remove the carbon, peeling away the old skin layer while unplugging pores and stimulating new healthy skin growth.
How does Revitalight control acne?
The Revitalight Acne System uses intense blue LEDs (Light Emitting Diodes) to create an oxygen environment on the skin, while penetrating the skin with intense pulsating blue light. Studies have shown that blue light in the 417nm to 425nm range is effective in treating acne. Each relaxing treatment takes approximately 20 minutes. Your trained skin care professional will move the large pulsator LED light over the areas that need to be treated. Only a plastic disposable cover touches your skin.The treatment is relaxing and the client/patient feels no pain during or after the treatment. There are no known side effects.
How many treatments are required?
Acne lesions and oil secretion begin to reduce (up to 30%) after the first spectra peel treatment. After three to five spectrapeel treatments at 2-3 week intervals more dramatic results can be expected including significant reduction in acne spots, redness and inflammation returning the skin to a much healthier state. With Revitalight LED acne treatments will be scheduled 2 to 3 days apart and will continue until the affected area has improved. Ask your skin care professional for your exact schedule of treatments.
How long will the results last?
While laser and revitalight treatments are considered to be long lasting, they are not permanent. To maintain the results, follow-up treatments at regular intervals (every 2-4 months) are recommended. In addition a skincare regime using Dermalogica brand skincare products is a great way to reduce the frequency and need for follow-up treatments.
Pricing: pricing starts at $69 per area with package pricing available. Please come in for a free consultation with one of our skin therapists to learn more.