From the makers of Botox Cosmetic, Juvederm Voluma is a hyaluronic acid soft tissue filler in the Juvéderm family. As the name suggests, Voluma is used to replace volume to the tissues of the face. Replacing the volume that has been lost through aging can help to restore a more youthful appearance. Many times, we focus on superficial wrinkles and skin texture. While important, these issues are only part of the effects of aging. Bringing back the contours of the cheeks and chin that start to flatten as we age can do wonders for the overall appearance of the face. Along with treating wrinkles and skin texture, replacing volume creates a foundation beneath the surface to support the skin and diminishes the look of the lines and wrinkles that come with aging.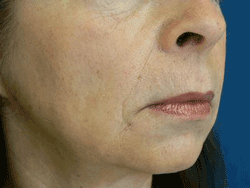 Frequently Asked Questions:
1. What is Juvederm Voluma? Juvederm Voluma is the Juvederm specialty product for volumizing. It is designed for injection in the deep dermis to treat age-related facial volume loss. Voluma has the optimal thickness of a volumizer while still retaining the smooth nature of the Juvederm family.
2. How is Juvederm Voluma different from the rest of the family? Juvederm Voluma differs from the Juvederm family in that it is a markedly thick, robust product ideal for injection in the deep dermis to treat age-related facial loss. Voluma achieves this viscosity through modifying the Hylacross technology and using low molecular weight HA, which enables more effective cross-linking. This produces an extremely highly viscous product with optimal lift capacity that is still smooth and cohesive.
3. Where is Juvederm Voluma intended to be used? Juvederm Voluma is indicated for volumizing of the cheeks, cheekbones, and chin. It is intended for deep dermis injection.
4. Can Juvederm Voluma be injected into the lips? No. Because it is such a thick, viscous product, Juvederm Voluma is not appropriate for injection into the lips. Other products in the Juvederm family (such as Ultra) are optimally suited for treatment of the lips.
5. Can Juvederm Voluma be injected superficially? No. The robust nature of a volumizer means it must be injected into the deep dermis, otherwise the product may be felt or seen (as discoloration in the skin) or result in an adverse event.
6. Is Juvederm Voluma injected the same as other Juvederm products? The robust viscosity that makes Voluma such an ideal volumizer also means that it requires specialized training in order to achieve successful outcomes. Voluma can be injected through either a needle or a cannula. Regardless of physician choice (needle or cannula), careful training and experience are recommended to become familiar with injecting Voluma.
7. How long does Juvederm Voluma last? Clinical trials show the volumizing results of Voluma to last up to 18 months.
8. What are the adverse reactions with Juvederm Voluma? The types of adverse events Voluma demonstrates are consistent with other volumizers, but in very low rates. In clinical trials, only 8% of patients experienced an AE such as swelling or hematoma. Additionally, there were no cases reported of product migration, as is common with some other volumizers.
9. Has Juvederm Voluma been tested in clinical trials? Several trials have been undertaken with Voluma; both prospective and retrospective. Voluma demonstrated significant improvement in facial volume loss, garnering high ratings from both physicians and patients. There has also been investigation into Voluma with HIV patients undergoing HAART therapy (which results in facial lipotropy), with positive results.
10. Who is the appropriate patient for Voluma? Patient selection is very important with Voluma, as it is a specialty volumizing product. Patients who can benefit from Voluma are patients with age-related facial volume loss, which may have resulted in a sunken look or facial asymmetry, or patients with facial ptosis. (One thing to note is that patients with sagging skin are not good candidates for Voluma-these patients may be better served by surgery.)
 11. Why should I use Voluma for volumizing as opposed to another Juvederm product? Although other Juvederm products such as Ultra Plus or Forma do offer robust lift capacity in areas such as the NLF, Voluma is specially designed for true volumizing, ie deep dermis injections of a thick, viscous product to volumize cheeks, cheekbones, and chin. When restoring or creating volume in these areas, Voluma is the ideal product of the Juvederm family, because it is our most viscous product that retains the smooth cohesivity of Juvederm.
Call us today or complete the form below for your consultation with Dr. Sherman to show you how Voluma may help you reverse the signs of aging.