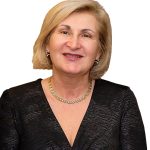 Dr. Zoia Sherman, Coral Medical Centre's founder and clinic director, conceptualized a medical centre in which traditional medicine and preventative medicine are combined under one roof.
Dr. Sherman's medical career began in Israel and continued into the United States and Canada. Over the course of her 30 year career, Dr. Sherman is a licensed General Practitioner, with special interests in the practice of Women's Health and Cosmetic Medicine. In the past 10 years Dr. Sherman has studied in the field of Anti-Aging Medicine through the Academy for Anti-Aging Medicine in the United States as well as the American Academy of Aesthetic Medicine. Dr. Sherman is able to offer a broad range of treatments in her clinic that address multiple medical conditions including Bio-Identical Hormone Replacement Therapy (BHRT) that combines traditional and holistic modalities.
Dr. Sherman's passion in life is helping people. She has a large Family Practice, Women's Health Practice, and a Cosmetic Medicine Practice through the Coral Medical Health Spa. She also donates to and sponsors many local community events, and has helped raise over $6,000 annually for many organizations including the Rotary Club of Windsor 1918, Children's First of Essex County, and the Windsor & Essex Humane Society to name a few.
Dr. Sherman is a member in good standing of the Ontario Medical Association (OMA), The College of Family Physicians of Canada (CFPC), The College of Physicians and Surgeons of Ontario (CPSO), the Essex County Medical Society (ECMS), Academy for Anti-Aging Medicine (AAM), the Canadian Association of Aesthetic Medicine (CAAM) and the American Academy of Aesthetic Medicine (AAAM). Dr. Sherman has recently completed a year of training in the U.S.A. in Aesthetic Medicine.
Dr. Sherman spends much of her free time on continuing medical education by attending numerous courses and conferences throughout the year. This continuing education allows her to provide the most up-to-date treatments with the highest efficacy possible.
Although Dr. Sherman has accomplished a great deal in her studies and career, and moved through 3 different continents, she considers her greatest achievement to be her family. Having raised 3 wonderful children, and the additions of six grandchildren, she always makes time for her family. Dr. Sherman enjoys reading and learning, but most of all, she loves to see the improvement that her patients experience under her care.