The Apogee Elite laser for hair removal affects only hair follicles which are currently active or growing (anagen stage of growth), therefore more than one treatment is required to eliminate the other stages of hair growth (catagen & telogen) as these hair follicles resume their active growth cycle. Hair removal treatments are relatively painless and leave no textural skin changes or the scarring commonly seen with needle electrolysis.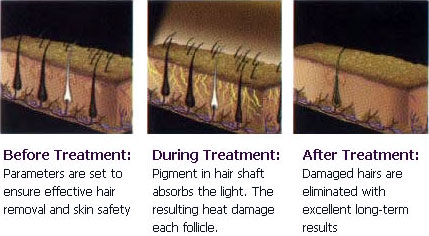 The Apogee laser also incorporates the use of the Smart Cool system by Cynosure. This system utilizes a "double cooling" technique which uses the body's natural cooling process in conjunction with a specifically engineered external cooling system. The Smart Cool system is used with the laser to minimize patient discomfort during treatment.
All of our top Cosmetic Treatments, including Laser Hair Removal treatments are all performed by trained and certified technicians. In addition the Laser Hair Removal protocols used are physician-approved and supervised, ensuring patient safety and satisfaction. Laser hair removal is carried out by qualified technicians who are specially trained and highly experienced in Laser hair removal treatments.
Before & After Pictures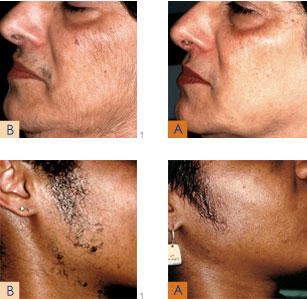 Hair Removal Pricing in Windsor – Starting at only $44 per treatment depending on the area.
After the initial six treatments pricing changes to reflect maintenance treatments where pricing begins at $24 per treatment or up to 70% off of the initial treatment price. Please inquire within for additional details.
Please schedule a consultation with one of our Laser Hair Removal specialists and ask about our pricing and package specials.